Secondary Organic Aerosols
Besides affecting visibility and human health, atmospheric aerosols can influence climate by affecting the Earth's radiative budget. However, the sources, formation, and climate feedbacks associated with aerosols are currently poorly understood.  Recent research in atmospheric chemistry has focused on secondary organic aerosol (SOA) formation from the oxidation of biogenic volatile organic compounds (BVOCs), a class of compounds that accounts for ~88% of non-methane VOC emissions globally.
Specifically, our group studies the aerosol formation from interaction between anthropogenic pollution (NOx, SO2) and forest emitting BVOCs (isoprene, α-pinene, etc.) to further understand the impact of man-made emissions on natural atmospheric processes. Through laboratory studies in our photochemical reaction chamber, we aim to quantify distinct products (such as organic nitrates and organosulfates) in SOA from these oxidation pathways to further our understanding of SOA formation mechanisms and gas-particle partitioning associated with them.
This study is supported by a unique suite of instrumentation: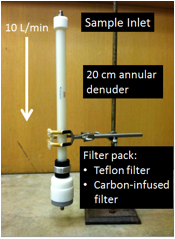 A Scanning Mobility Particle Sizer (SMPS) spectrometer for determining aerosol yield, size distribution, and particulate evolution over time.  This instrument was used by Slade et al. 2010 to determine aerosol concentrations over Lake Michigan.

A Proton Transfer Reaction Linear Ion Trap (PTR-LIT) mass spectrometer for identification and quantitation of VOCs and oxygenated VOCs.

The Total Reactive Nitrogen Instrument for determining gas phase concentrations of NOy species.

HPLC-ESI-LIT for the tandem mass spectrometric analysis of filter samples. 

Other instruments for inter-comparison purposes, such as a GC-FID, GC-ECD, GC-TSD, FT-IR, NOxanalyzer, LI-COR H2O analyzer, and an ozone monitor.

A denuder for separation of gas- and aerosol-phase species during sampling, shown in the picture to the right.